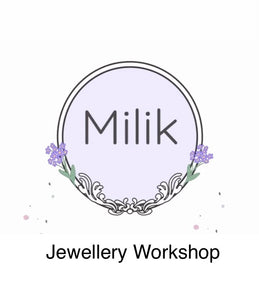 Wabi-Sabi: How To Embrace This Ancient Japanese Philosophy with Jewellery.
Wabi-sabi offers an escape from the modern world's obsession with perfection and accepts imperfections as all the more meaningful – and, in their own way, beautiful. This Japanese concept can help you create happiness and feel more content with life as it is, rather than always wishing for more.
Learn more about it and create your own jewellery piece. For yourself or perfect for a gift. 
 -A pair of earrings .
-Materials: sterling Silver , crystals, japanese glass beads. 
Who is this workshop for?
Anyone +16 years old who would like to learn how to make conceptual jewellery with a Japanese philosophy "Wabi-Sabi".
To make Jewellery only requires patience and the desire to work with your hands.
Requirements and materials
All materials are included.