Milik
It is a contemporary art jewellery brand with a sustainable soul that I have created it in Japan, then I continued it evolve in Australia , France and nowdays settle in United Kingdom.
I have graduated in Metal and Craft, Nagoya Art University in Japan. Accepted MA student in Jewellery Metal at Royal College of Art 2023-24.
Milik Jewellery is my canvas where I feel free to explore and create wearable objects with sustainable materials.
Milik Jewellery is created one by one locally by myself and sending to the world.
Milik Jewellery is around Asia, Europe and South America.
THANK YOU.
Milagros Kuga
Multidisciplinary Jewellery artist & Milik CEO Founder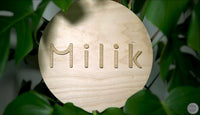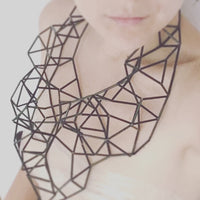 Milik is an artist who believes in creating conceptual wearable objects  from multicultural and personal inspirations and She has a unique ability to translate her ideas into delightful delicate and intricate pieces.
Milik jewellery are like her own canvas, where she express herself and communicate with the world and  people through them.
Milik combines high quality Peruvian / Japanese materials with an artistic and technical vision. She uses no mechanical equipment, all her work is carried out by hand processes, with only basic tools. All her jewellery and accessory are crafted  by herself with a sustainable and conscious spirit.
Milik has a Japanese craft design degree at Nagoya Art University that helps her to understand, see and put material in different context. Like transform a piece of traditional antique kimono textile into a 3D contemporary necklace.
Milik Jewellery is for people who seek originality through creative and unique hand-made pieces.
Milik is currently in England and exploring around Europe, searching for lines, materials, and new inspirations to create a new vision for future jewellery .
Our reviews
I literally fell in love with Milik`s Jewellery the moment I saw it at Art in the Park. I just love that it is so unique. I generally wear a quite a simple colour palette so my beautiful necklace looks amazing and really stands out. Wonderful personal service and stunning jewellery.

Jen
We were immediately struck by the unique design of Milik`s beautiful jewellery. I subsequently brought my wife a pair of your earrings for her birthday - She was delighted with them and has been wearing them constantly. Many thanks.

Paul J.
" I`m not of a fan of heavy jewellery, particularly in earrings, and Milik has delivered in creating beautiful jewellery that is not only eye-catching but also practical and lightweight. I own two sets of her earrings, and I love them both equally! One is a geometric /mesh black design, the other a neon colour with a Swarovski crystal incorporated in the loops. Both dress up my outfits fantastically - Thank you Milik for taking the time to create such a fabulous works :) "

Lisa
Great jewellery design and amazing customer service.

Nick P.
Event
Autumn - Winter 2022
20 November
Creators Market, Hart.Co Leamington Spa 4pm-8pm
3 December
Leamington Art Fest , All Saint Church Leamington Spa
Looking forward to seeing you there!
Thank you.